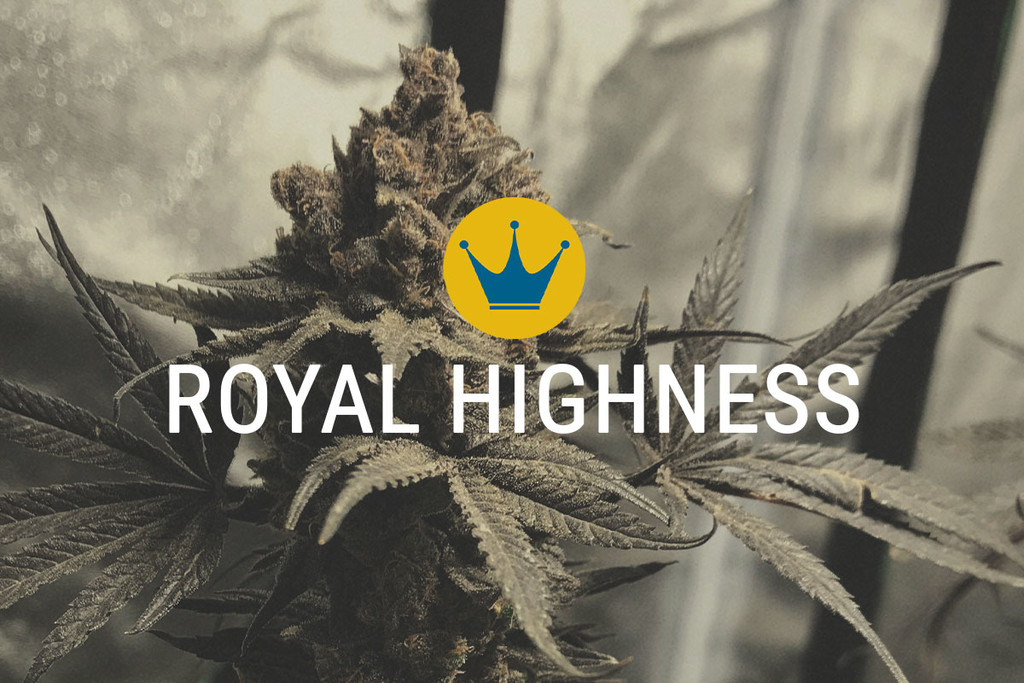 Royal Highness Medicals Marijuana Seeds
Royal Highness Medical Marijuana seeds grow short and fat. This chunky strain delivers excellent yields. After growing for nine weeks, skilled growers can expect up to 20 oz of marijuana under lighting. The flavors of Royal Highness Medical Marijuana include appetizing but complex flavors.
---
At first, the marijuana tastes sweet and juicy, but the taste feels underlined by a deep, dank and skunky flavor. As the user gets more deeply into their session, they notice a great tasting flavor that will remind the user of cheese and earth; however, it comes with a Kush aftertaste.
Vaporizing and Effects
This weed works splendidly well in a vaporizer. Royal Highness Medical Marijuana has well-cured buds that are truly delicious. However, the effects of smoking this sativa are extraordinarily uplifting and motivational. Nevertheless, the effects do not leave the user with the feeling of it being too intense and rushy. In the medical marijuana community, Royal Highness Marijuana has been praised for its treatment of pain, and it comes with a blissful euphoric high that could interest all lovers of the ganja. For years, this CBD strain has been known for the healing properties that it passed down the family tree.
Other Ways Royal Highness Medical Marijuana Seeds Can Be Used
Royal Highness comes with less THC than popular strains. It becomes a marvelous option for medicinal users who do not want a heavy psychoactive trip. Because of the high CBD levels, people often select Royal Highness to handle anxiety problems, anti-inflammatory problems and pain problems.

About the Buds
Users will take notice of the buds from Royal Highness. They have been slightly elongated, but come thickly with thrichomes, bright pink/orange pistils. Additionally, these buds come with a cheesy but dank aroma that cannot be mistaken for different types of chronic. Marijuana enthusiasts will feel dazzled as they watch their beauties grow. There is no overpraise to say that these buds are some of the best of the vine. Another one of the outstanding aspects of this plant would be the low calyx-to-leaf ratio. People can easily make concentrates using the trimmings during harvest time. However, one con is that clones take approximately two weeks to take root, but most people will find Royal Highness to be an all-around winner under most people's standards.
What Else to Expect?
Royal Queen Seeds have their origin with the famous Juanita la Lagrimosa. This plant is predominantly an indica strain, but it comes with a solid genetic background, and the plant has many of the best characteristics of Royal Highness. Despite the sativa structure, the plant comes with an effect that is more like Sativa. It grows to a height of around 80 to 110 cm, which most growers can manage.

Royal Highness Medical Crossed with What?
Royal Highness has been crossed with Respect and Dance Hall. Respect has its origins with the famous Juanita la Lagrimosa, which is a high CBD strain; however, it has also been crossed with Cannalope Haze, which is a spectacular sativa. These strains, mixed with Dance Hall, a remarkable Spanish hybrid, has produced a ravishing marijuana strain that comes with an equal ratio of THC and CBD. This means the plant will have excellent medical marijuana properties.

Overall, Royal Highness is an exceptional thoroughbred, and they were designed for the medical marijuana user. The high levels of THC and CBD leave an individual focused and relaxed, but without the lethargy or psychedelic trips that users experience when using other strains. If you are looking for an interesting strain, this could be exactly what you have been seeking.