Valódi genetikája ismeretlen. Vannak, akik szerint az OG Kush a ChemDawg, a Pakistan Kush és a Lemon Thai keveréke. Mások úgy vélik, hogy a ChemDawg-nak egy '90-es évekbeli különleges vágása. Még nevének a származása is vitatott, mivel egyesek szerint az OG az Original Gangster-nek a rövidítése. A legtöbben a növény eredete miatt megegyeznek abban, hogy az OG Ocean Grown-t (tengeren termesztettet) jelent.
Egy dolog, amiben mindenki megegyezik az az, hogy ez a feminizált cannabis variáns nagyon népszerű. Hollywoodi filmsztárok, repperek és orvosi füvet fogyasztók egyaránt kedvelik. A legfeltűnőbb jellegzetessége az erős, egyedi, nedves és kissé citrusos aromája, ami üzemanyagra, vagy erős mosószerre emlékeztető. Az OG Kush íze szintén erős és nyirkos, és hosszú az utóíze.
Az OG Kush durván erős cannabis variáns, amelyet a tapasztalt szmókerek többsége a kedvencei közé sorol. A hatása fizikailag éppen olyan erős, mint szellemileg. Annak ellenére, hogy a hatása inkább sativa típusokra emlékeztető, a genetikája indica domináns. A hatása épp olyan komplex, mint az íze. Az OG Kush kb. 8 hétig virágzik és a hozama növényenként átlagosan 65 g.
A növekedés közben nyúlik egy kicsit, de virágzás alatt gyorsan kitöltődik. Általában a 90-160 cm-es magasságot éri el. A bugái nagyok és tömörek, citromzöldek, és nagy mennyíségű gyanta fedi őket. Sok oka van annak, hogy az OG Kush ennyire népszerűvé vált. Most a Royal Queen Seeds-nél feminizált mag formában elérhető, ezért bárkinek lehetősége van arra, hogy kipróbálja ezt a nagyszerű variánst.
THC:

19%+-

CBD:

Medium

Hozam beltéren:

425-475gr m2

Hozam kültéren:

500-550 grams per plant dried

Magasság beltéren:

90 - 160 cm

Magasság kültéren:

180 - 220 cm

Virágzási idő:

7-9 Weeks

Szüreti hónap:

Október

Genetikai háttér:

Chemdawg x Lemon Thai x Pakistani Kush

Típus:

Sativa: 25% Indica: 75%

Hatás:

Nyugtató és ízzel teli



By D. P. on 19/Jan/2017 :

(

5

)

Title : Extraordinary!
Comment : Grew 2 times under LED''s got very dank and sticky buds. Little less yield but very strong and specific efect 5 stars!

By P. D. on 17/Jan/2017 :

(

5

)

Title : Super Sorte
Comment : Echt geile Sorte, guter Ertrag und super Wirkung

By N. P. on 17/Jan/2017 :

(

2

)

Title : Jonsey
Comment : Great and powerful strain!

By I. K. on 16/Jan/2017 :

(

5

)

Title : Great strain!!
Comment : I like it so much I will reorder for another run!! I love it!

By H. C. on 13/Jan/2017 :

(

5

)

Title : Just amazing.
Comment : Tastes and smells perfect. Easy to grow indoor. Not really in outdoor.

By D. S. on 09/Jan/2017 :

(

5

)

Title : Nice one
Comment : i like the taste !

By C. B. on 05/Jan/2017 :

(

4

)

Title : qualite
Comment : Très satisfait

By L. A. on 22/Dec/2016 :

(

5

)

Title : Og kush
Comment : Grown RQS og kush several times and it's a banger.easy to grow great yeild very strong high.winner all round

By M. B. :

(

5

)

The customer has rated the product but has not posted a review

By D. R. on 19/Dec/2016 :

(

5

)

Title : La Rolls des seeds!
Comment : Vraiment une super variété. 2 plantes sous cfl et récolté plus au moins 15g par pied. Le gout est parfait, fruité et elle vous envoie sur Mars! ;) Pour moi c est la meilleur que j ai gouté jusqu à présent .De la frappe!!! A Reprendre sans hésiter. Et merci pour le bon :)

By D. P. on 15/Dec/2016 :

(

4

)

Title : O.G kush
Comment : 8 graine sur 10 germe croissance au top ,chui à Flo + 1 mois rien à dire très belle plante bon bud et facile à cultivé je trouve , hâte d'être à la récolte ; ) tchuss je reviendrais posée un petit com pour vous dire le résulta; )

By M. B. on 12/Dec/2016 :

(

5

)

Title : MERAVIGLIA DI SENTORI
Comment : HO PROVATO PER LA PRIMA VOLTA LA O.G. KUSH E DEVO DIRE CHE LA TROVO MERAVIGIOSA, NELLA SEMPLICE COLTIVAZIONE(TERRA), NELLA ROBUSTEZZA, VELOCITà E RESA,INSOMMA HO TROVATO LA MIA PIANTA MADRE

By X. D. on 05/Dec/2016 :

(

5

)

Title : Au top
Comment : Reçu vite og Kush qui veut tester le boss

By M. N. on 29/Nov/2016 :

(

5

)

Title : Top Anzuchtergebniss
Comment : 10 von 10 Samen sind ohne jeglichen Aufzuchtschnickschack aufgegangen. Letztendlich sind 9 Pflanzen bis zur Ernte mit hervorragenden Ergebnis durchgekommen. Gerne wieder!!

By T. B. on 29/Nov/2016 :

(

5

)

Title : Everything good so far
Comment : Thanks Royal Queen Seeds, everything good so far.




You can't post a review because you are not logged as a customer

Log in / sign up
We do not ship this product to the following countries:
United States, Argentina
VÁSÁRLÓK AKIK MEGVÁSÁROLTÁK EZT A TERMÉKET, SZINTÉN MEGVÁSÁROLTÁK:
Original Gangster Kush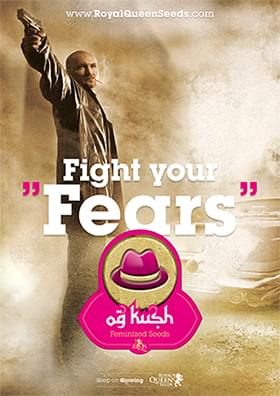 In the world of marijuana, OG Kush is one of the most famous and well-known strains available. In fact, it's considered to be one of the eight ultimate Kush varieties. The precice origin and genetics of OG are a bit hazy. Many people believe that the popular strain was first developed in California, which would offer a fitting explanation for the first half of its name. It was long thought that "OG" meant "original gangster", but the name is now thought to stand for "ocean grown", which would make sense if it was developed on California's coast.
Disclaimer
All cannabis seeds sold at Royal Queen Seeds are solely for personal use. We do not supply seeds to large scale or commercial growers. We reserve the right to refuse sale if we suspect this term is being breached.