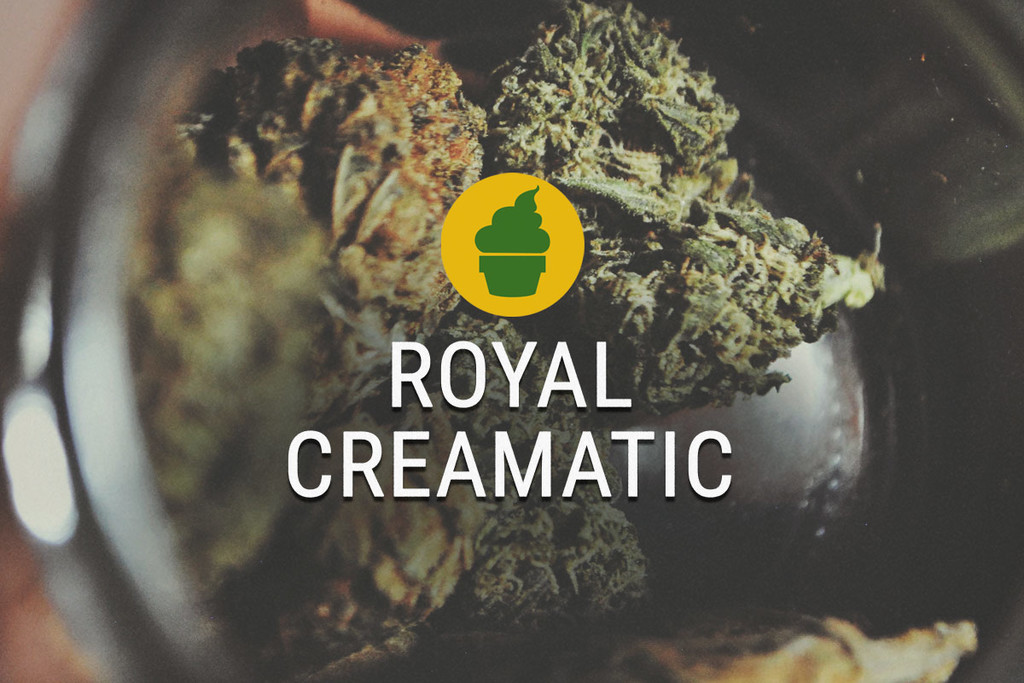 Royal Creamatic Smoke Report
The Royal Creamatic has a very circular appearance, similar to clusters of very tiny golf balls.
---

Quick Flowering Royal Creamatic Tastes, Smells Great
The Royal Creamatic has a very circular appearance, similar to clusters of very tiny golf balls. Its structure is very dense and features excellent trichrome coverage. This variety in particular is one of the few we tested that turned slightly purple, being slightly more dark than the usual lime green with very dark hairs that are more vibrant orange in color.

A signature feature of Royal Creamatic is an intense, very sweet smell, very similar to a pot of caramel which has just come to the boiling point. It displays a lovely hint of spiciness which can become overpowered by its overall syrupy sweet caramel aroma. I also detected a distinct aroma that reminded me of a rich and delicious caramel candy bar. Overall, the aroma is the very pleasing sweet floral smell of a bouquet of flowers.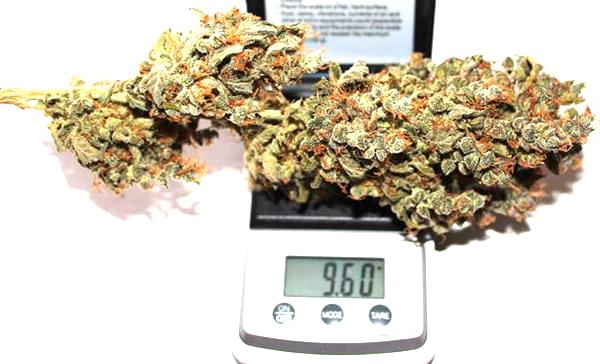 After trying my first hit with Royal Creamatic, I noted that the sweet and intense caramel flavor immediately lingered on my tongue and throughout my mouth. The taste I got was very similar to the syrupy sweet, caramel candy-like aroma, with definite overtones of a woodsy and almost smoky flavor that nicely balances out the almost super-sweetness of the Royal Creamatic. The smoke that it produced when taking a hit is almost creamy in consistency, and it lingered in my mouth for what seemed like a very long time. This smoke is initially very smooth, but by the end of the bowl, I detected that the smoke became a bit more harsh, but not to an annoying degree.


Testing the Royal Creamatic as my first smoke of the day, I noticed that its effects hit me very fast and very hard. I could immediately feel the smoke expanding throughout my lungs and it gave my chest an overall heavy sensation. The effect is also very cerebral, and I could really feel the effects throughout my head but especially behind both eyes. The overall result is a very narcotic stone and as I gazed around the room, it tended to make the things I was focusing my attention on appear to vibrate all by themselves. You can expect a very hard-hitting Indica buzz from Royal Creamatic.
The length of the buzz lasts anywhere from one and a half to two hours. The effects are immediate and hard-hitting at first, and I felt extremely stoned throughout the entire buzz, with no lessening of its physical or mental effect. But I did notice that my comedown made me feel more groggy than mellow. Overall, I rate this Indica stone as extremely potent and heavy hitting. While stoned, I was still able to interact with friends and be aware of these social interactions. It's great for use when you feel a deep need to completely relax or get motivated to get something done. I found Royal Creamatic very helpful to use as a natural insomnia remedy at nighttime because it enabled me to fall asleep quickly. My final grade for Royal Creamatic is a solid A.